The Adventures of Elizabeth in Rügen
By the author of
Autor: Arnim, Mary Anette, Gräfin 1866-1941, Erscheinungsjahr: 1904

Themenbereiche
Enthaltene Themen: Mecklenburg-Vorpommern, Rügen, biggest island Germany, Baltic Sea, Pomerania,
Inhaltsverzeichnis
The first day - From Miltzow to Lauterbach.

The second day - Lauterbach and Vilm.

The third day - From Lauterbach to Göhren.

The fourth day - From Göhren to Thiessow.

My cousin Charlotte was twenty when I saw her last. Now she was thirty, besides having had an india-rubber cap on. ...

The fourth day (continued) - At Thiessow.

The fifth day - From Thiessow to Sellin.

The fifth day (continued) - From Sellin to Binz.

The sixth day - The Jagdschloss.

The sixth day (continued) - The Granitz Woods, Schwarze See, and Kieköwer.

The seven day - From Binz to Stubbenkammer.

The seven day (continued) - At Stubbenkammer.

The eighte day - From Stubbenkammer to Glowe.

The ninth day - From Glowe to Wiek.

The tenth day - From Wiek to Hiddensee.

The eleventh day - From Wiek Home.
Every one who has been to school and still remembers what he was taught there, knows that Rügen is the biggest island Germany possesses, and that it lies in the Baltic Sea off the coast of Pomerania.

Round this island I wished to walk this summer, but no one would walk with me. It is the perfect way of moving if you want to see into the life of things. It is the one way of freedom. If you go to a place on anything but your own feet you are aken there too fast, and miss a thousand delicate joys that were waiting for you by the wayside. If you drive you are bound by a variety of considerations, eight of the most important being the horses' legs. If you bicycle — but who that loves to get close to nature would bicycle ? And as for motors, the object of a journey like mine was not the getting to a place but the going there. ...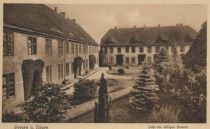 Bergen, Stift der adligen Damen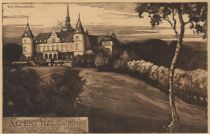 Bergen, Schloss Ralswiek bei

Bergen, Panorama von Westen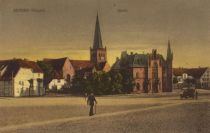 Bergen, Marktplatz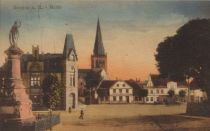 Bergen, Marktplatz (2)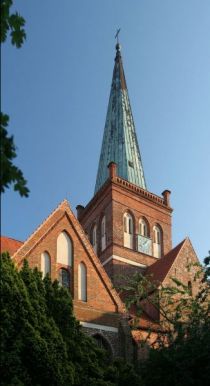 Bergen, Marienkirche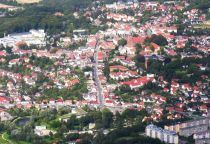 Bergen, Luftbild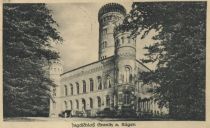 Bergen, Jagdschloss Granitz bei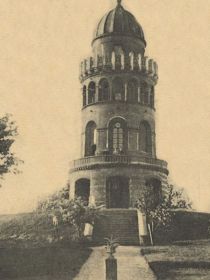 Bergen, Arndt-Turm bei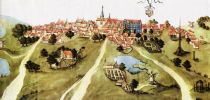 Bergen, Ansicht 1611-1615 aus der Stralsundischen Bilderhanschrift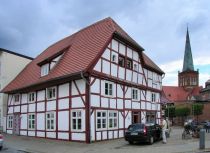 Bergen, ältestes Fachwerkhaus von 1538 am Markt, Marienkirche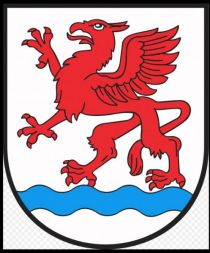 Belgard, Wappen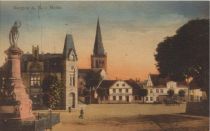 Bergen auf Rügen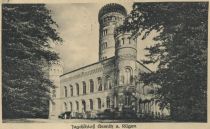 Rügen, Jagdschloss Granitz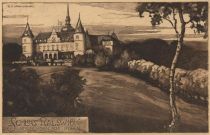 Rügen, Schloss Ralswieck