74 Bill Poster. By Krausz, Sigmund
He is certainly a nuisance, and this is probably the reason why the bill poster generally avoids the bright light of day and does his work either at night or during the earliest morning hours. The bill poster is essentially a product of American advertising methods. The craft is almost unknown on the European continent. But then the poor European is way back in art-education. He does not appreciate the beauties of a fifty-yard-circus advertisement on the walls of a building or on the fence around an empty lot. He has no understanding of how one can improve the natural beauty of a romantic dell by judiciously placing a tooth powder or soap-ad on the most prominent rocks and bowlders.
The bill poster is a native of the large cities, but he may be found during the summer seasons at the smaller towns and villages where he industriously plasters walls and fences, the most effective advance agent of the many-ringed circus and the barnstorming dramatic show. It cannot be said that he has no admirers at all. Should he be seen in daytime with brush and pail in hand, poster sheets slung over the shoulder, he is followed by a crowd of inquisitive children who eagerly watch him roll up sheet after sheet, until their delight knows no bounds when the completed work shows all the animals of Noah's ark, or the most stirring scenes in the blood-curdling border tragedy: "The mystery of Dead Man's Gulch!" But the bill poster is nevertheless an unmitigated nuisance, and his existence ought to be forgiven him only for the occasional delight he furnishes the children.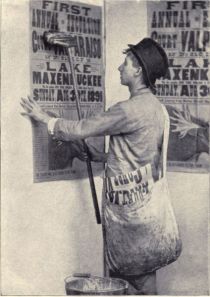 74 Bill Poster.
alle Kapitel sehen