60 Accordion Player. By Schierbrand, Wolf von
Here we have one of those types of street life which the thoughtless throng passes by unheedingly, and yet one which furnishes food for thought, serious thought. All the way from sunny, vine-clad Italy she came, from a country where the very air, like an AEolian harp, vibrates with music; whose every foot of soil reeks with history; whose people have a greater past than any other living nation. But alas! it is also a country which for centuries has been down-trodden, overrun by lusty barbarians, and overridden by the steed of the conqueror. A poverty-stricken country, whose rich natural resources lie fallow, Italy, the sleeping beauty, just awakened from her dream of a thousand years, and still rubbing her eyes wondringly at the enormous strides forward which all her neighbors have made.
And from that home, beautiful but starving, this swarthy stranger woman has come to these hospitable shores. A strolling musician, vagabondism is in her blood. The hard life she has ever led since she was weaned has left its indelible stamp on her. Straggling, unkempt hair, low forehead, prominent cheek bones, and eyes that glimmer like half-extinct charcoal, she would do as a model for the witch of Endor. But though repulsive in looks, and though she uses her accordion as an instrument of torture on an indulgent public, producing nothing but shrill, discordant sounds, the woman crops out in one spot at least. What Goethe calls the "eternal womanly" shows itself in the child the bright-eyed, roguish little imp, the "bambino carissimo" of this hag. Like an Indian squaw she carries her pappoose, performing her labor all day long with this burden on her back, twanging her accordion, begging and wheedling, the mother love is there, nevertheless. That is the one green spot in her life, the oasis in the desert of her heart. And let us hope that the little devil-may care fellow on her sturdy back one day may grow up to be an independent, stalwart American boy.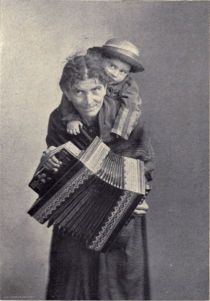 60 Accordion Player.
alle Kapitel sehen