38 French Chewing Candy! By Krausz, Sigmund
In no country throughout the world is so much candy consumed as in the United States. Naturally the candy industry is an important one, and many tons of the tempting wares are sent daily from the centers of production to all parts of the Union. Many are the forms in which the dainty goods are offered to the consumer, and each has its admirers. Who would say that the dirty street Arab does not enjoy his stick of hoarhound or his aniline-dyed taffy as much as the daughter of the merchant-prince enjoys her box of candied violets or marone glacé?
It is this fondness for sweetmeats that makes the existence of the itinerant vender of chewing candy possible. The chewing candy man is in his way as much of a merchant as the great drygoods man. He has to be a student of human nature, a psychologist and physiognomist. He is invariably found in the business district, where he occupies a lively corner. There he scans the faces of the passers-by; and when he sees a prospective customer he utters his "Chewing candy! Fine fresh chewing candy!" He is rarely mistaken, and a nickel is the general tribute paid to his shrewdness. There must be a fair profit in the business, for the candy man, as a rule, looks happy; or is his sweet disposition perhaps the result of his close contact with the goods which he bears on the tray so near his heart?
The serenity of the candy man is not easily disturbed, but sometimes a cloud darkens his face. That happens when business on the corner is brisk, and the burly policeman at the crossing tells him to "move on." Then he seeks new fields of conquest, and soon his alluring voice may be heard on the next corner crying out, "French chewing candy! Fine, fresh chewing candy!"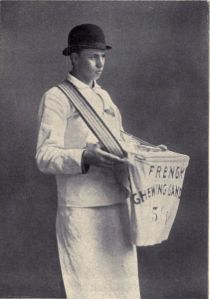 38 French Chewing Candy!
alle Kapitel sehen