36 The Old Soldier. By Krausz, Sigmund
Gettysburg, Shiloh, Appomattox! Glorious memories that come back to us at the sight of an old soldier. Memories that will live forever in tradition and history. Happy he who has been an active helper in the glorious achievements for humanity and civilization that resulted from an otherwise deplorable war of brothers. All the misery, all the suffering must be forgotten in contemplation of the glorious result.
Unlike European nations, the United States government is generous to its old soldiers. It does not show its gratitude to the veterans by generously granting them the privilege to solicit alms, but it gives them substantial pensions. The old soldier here is not an object of pity. He is a respected and beloved hero, looked upon by all with equal admiration. If he be without friends he may join the great family in one of the splendidly equipped soldiers' homes, where he may await in peace the last bugle call. If he have progeny he is sure to spend the eve of his life among beloved ones, who never tire to hear the stirring stories of the historic struggle repeated, of which he is a living witness. In both cases he may quietly await the end in the consciousness of having done his duty towards his country.
But let us hope that the old soldier of the civil war will long be a familiar figure in our streets, and that by the time he must disappear from the stage of the world all the differences will have been long forgotten that once existed between the blue and the gray.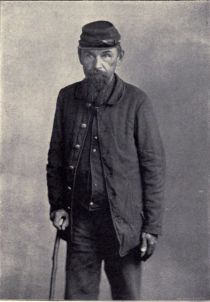 36 The Old Soldier.
alle Kapitel sehen