An old story of my farming days (Ut mine Stromtid) Vol. II.
In three Volumes.
Themenbereiche
Enthaltene Themen: Mecklenburg-Vorpommern, Rostock, Rahnstädt, Demmin, Landleben, Gutsverwalter, Landwirtschaft, Sitten und Bräuche, Norddeutschland, Plattdeutsch, Volksdichter, Fritz Reuter
In 1861 Fritz Reuter wrote Ut Mine Festungstid, a narrative about his prison years without any bitterness or self-pity. In 1862-64 Ut Mine Stromtid tells of his days as a tenant farmer and is considered his masterpiece. It is full of detailed portraits of Mecklenburg characters, customs and countryside as well as what life was like in those times. It was translated in 1867 anon. as Seed Time and Harvest and also as An Old Story of my Farming Days trans. in 1873 by M.W. McDowall

Reuter is regarded as a master of German humor, especially the unique culture of the North German Mecklenburgers.

***********************
On the 23rd of June 1843, the eldest son of David Däsel and the youngest daughter of John Degel were seated on a bench in the pleasure-grounds at Pümpelhagen. They had gone out to enjoy the beauty of the moonlight evening together. Sophia Degel said to her companion: "What made you look so foolish, Kit, when you came back from taking the horses over to meet the squire?"—"It was no wonder if I looked a little foolish. He took me into the sitting-room at the Inn and showed me his wife, and, says he, 'this is your new mistress.' Then she gave me a glass of wine, and made me drink it at once."—"What's she like?" asked the girl.—"Why," said Christian, "it's rather difficult to describe her. She's about your height; her hair is bright and fair like yours, and her colouring is red and white like yours. She has grey eyes like you, and she has just such another sweet little mouth."—Here he gave Sophia a hearty kiss on her pretty red lips.— "Lawk a daisy! Christian!" cried the girl, freeing herself from his embrace. "I suppose then that you gave her just such another kiss as you've given me?"—"Are you crazy?" asked Christian, and then went on soothingly. "No, that would have been impossible. That sort have something about them that doesn't go with our sort. The lady might have sat here on the bench beside me till doom's day, and I'd never have thought of giving her a kiss."—"I see!" said Sophia Degel, rising and tossing her pretty head, "you think that I'm good enough for that sort of thing! Do you?"—"Sophia," said Christian, putting his arm round her waist again, in spite of her pretended resistance, "that kind of woman is far too small and weakly for us to admire; why if I wanted to put my arm round a creature like that—as I'm doing to you just now, Sophia— I'd be frightened of breaking or crushing her. Nay," he continued, stroking her hair, and beginning to walk home with her, "like mates with like."—When they parted Sophia was quite friends with Christian again. "I shall see the lady in the morning," she said, as she slipped away from his detaining arm, "the girls are all going to make wreaths of flowers to-morrow, and I'm going to help." ....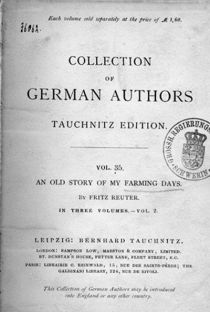 Titelblatt der ersten amerikanischen Ausgabe von "Ut mine Stromtid" aus dem Jahr 1878.