26 Statuetti! By Krausz, Sigmund
The statuetti-man. who sells the pretty little plaster casts, is a character similar to other Greek and Italian street venders, but he is a man of different caliber. He looks down on the poor scissor-grinder or banana-man as plebeians and uneducated persons. He is an aristocrat, and knows all about art. He has the famous masterpieces of sculpture at his fingers' ends, and he talks, if he knows enough English, about the Venus of Milo, the Apollo Belvidere, the group of Laocoon, or the dying gladiator, with the same ease as an American fakir talks about the merits of a new shoe-polish, or a patent corkscrew. While the other one has to stand on the sidewalk or in the street, the statuetti-man is not infrequently allowed to enter the parlor, where he freely gives his opinion on pictures and bric-a-brac, however, not forgetting to praise his own stock of art treasures with a view of a profitable sale. His prices are not fixed. He suits them to the surroundings, charging in some cases $.50 for a little plaster of paris amorette, while he advances the price of the same piece in another case to $1.50.
O, he is shrewd, and it will not take him long to have a little store, where he will dispose of his reproductions of the antique, without being compelled to peddle the same from house to house, carrying the heavy basket on his arm. He is more apt to appreciate the advantages of this country than other street-venders of his nationality, and the probability is that he will remain here to enlighten us ignorant Americans about the ancient art of Greece and Rome.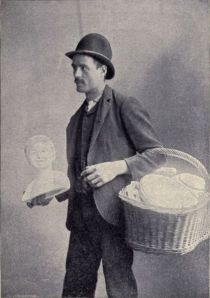 26 Statuetti!
alle Kapitel sehen