Letters from Mecklenburg and Holstein comprising an account of the free cities of Hamburg and Lübeck
im Sommer 1820
Autor: Downes, George, Erscheinungsjahr: 1822

Themenbereiche
Enthaltene Themen: Reisen, Reisebericht, Mecklenburg, Lübeck, Hamburg, Kiel, Holstein, Briefe
THE original letters from which the following work has been compiled were written during a short residence in the North of Germany, which the author visited in a declining state of health. Many details of a private nature have been retrenched, — many added of more general interest, derived either from oral communication or authentic documents.

*********************
Inhaltsverzeichnis
Reflections on entering a foreign Country — North of England — Embarkation at Hull —German Ocean—Entrance of the Elbe — Newark — Cuxhaven — Glückstadt — Stade — Blankanese — Altona — Disembarkation at Hamburg
Lockstedt — Game of Rabusche — Bells of Hamburg — Tricks upon Travellers — The Burghers — Exorbitant Demand at the Börsen-Halle — Excursion through the Alster Villages
Stelling — An Adventure — Birth-Day Festivities — The Anstossen — Evening Amusements — Eppendorf — Game of Bowls — Winterhude — Church of Eppendorf —Eimsbüttel
Ottensen — Klopstocks Grave — The Palmaille — Altona — Religious Toleration — Avenue between Altona and Hamburg — Vandycks Landleben
Memorials of the French — Old Jewish Synagogue — New Jewish Synagogue — Churches — Buschs Monument—English Reformed Church — Departure for Lübeck
Road from Hamburg to Lübeck — Bargteheide — Oldeslohe— Approach to Lübeck — The Holstein-Gate — The Holstein-Street — Twilight in Lübeck — Exterior of the Dome- Church
Funeral Ceremony at the Dome-Church — Interior of the Dome-Church — Legend of the Dome-Church — Novel Institution for Cripples — The Rampart — Annual Festivities
The Marien-Kirche — Astronomical Clock — Church Mouse — Town-House — Various Churches, and other Places of Worship — The Stift St. Johannis — The Jerusalemsberg —
Arnims Monument


Departure from Lübeck — Lake and Town of Ratzeburg — Forest Scene — Wittenburg — Baronial Mansion of Hülseburg — Excavating Match — John of Mecklenburg — A Mecklenburg Shepherd — Carl Theodore Körner — Schwertlied

Departure from Hülseburg — Körners Grave — Ludwigslust — Palace of the Grand-Duke of Mecklenburg-Schwerin — Picture-Galleries and Cabinet of Curiosities at the Palace — Reminiscence of Dean Swift

Cabinet of Antiques at the Palace — Pasteboard Manufactory — Private Collection of Paintings — Mecklenburg Costume — Departure for Schwerin — Second Visit to Körners Grave — Körner and his Sister — Village of Wobbelin — Approach to Schwerin — Castle of Schwerin — Picture-Galleries — Demonology of Mecklenburg — Museum

Departure from Schwerin — Rehna — Environs of the Lake of Dassau — The Priwall — Travemünde — Bathing Establishment — Road to Lübeck

Sketch of the History of Mecklenburg — City of Schwerin — Canova and Thorwaldsen — Girdle of Luba — Etymology of Lübeck — Corporation of Lübeck — The Guilds — Legislature of Lübeck

Commerce of Lübeck — Manufactures — Territory of the City – Generals Appearance of Lübeck – Curious Appartment — Departure from Lübeck — Road to Hamburg — A Politican — Wandsbeck — Voss and Hölty — Storks

Departure from Hamburg — Place of Execution at Relling — Pinneberg — Elmshorn — Horst — Heaven and Hell-Neuembrock — Breitenburg — Itzehoe — Lützows Wild Hunt — Pyramid at Nordho — Temple of Nordho — Henry, Count Ranzau — Hünengräber

Departure from Itzehoe — Groses Antiquities of Ireland — Reminiscence of the Erl-King — Gründal — Albersdorff — Cromlech, or Druids' Altar, in the Spouses Plain — Remels — Nordtorp — Danish Postings – Claus-a-Smus and Magreta-a-Smussen — Arrival at Kiel

Botanic Garden at Kiel — Schoolfor Schoolmasters – Danish Reminiscenses of England — Passports — Fjörd, or Haven, of Kiel — Holtenau — Sleswig-Holstein Canal — Evening Walk in Denmark — Domain of Koop — The Harmonie — Old Fischer — The Dannebrog — Aquatic Excursion

Church of St. Nicholas – The Schuhmacherstraße — Uninersity — Students – Professor Fischer — Anatomical Collection — Castle — Streets and Public Buildings — Düsternbrook — Professor Nasser — The Nibelungen-Lied — Picture-Gallery — Society at Kiel — Brunswyck — Festival of the Wise Men

Departure from Kiel — Preetz — Ecclesiastical Foundations — Collection of Antiques — Plön — Lakes of Plön — Aschberg — Segeberg — The Kalkberg — A Legend lost — Country between Segeberg and Hamburg — Economy of North-German Posting

Excursion from Kiel to the Probstey Preetz — Hagen — Origin of the probsteiners — Cestume — Schönberg — Miscellaneous Customs — Window-Beer — Ceremonials of Baptism — Church-Beer

Brudschatt-Sammeln — Invitation to the Marriage-Feast — Brudkistenfahren — Bridal Attire — Miscellaneous nuptial Cereminies — Marriage-Feast — Bundling — Grave-Beer — Funeral Solemnities — National Dances — Festivals, or Guilds — Early History of the Probstey — Legend of the Frau von Verwellen — Return to Kiel

Sketch of the History of Holstein — House of Ranzau — County of Ranzau — Church of Niendorf — Excursion to Eiselstedt — Excursion to Rendsvills Garden and the Elbe — Bibliopolism — Dr. Rödings Museum — Visit of the Grand-Duke of Mecklenburg-Strelitz to the Museum

Visit to the Widow of Klopstock — Anecdotes of Klopstock — Sacrilegious Qutrage — Re-erection of Klopstocks Monument — Mozarts Zauberflöte — Dome-Church at Hamburg — Ancient Church of Charlemagne — Große and Kleine Michaelis-Kirche — Petri-, Nicolai-, Jacobi-, Georgs-, Catherinen-, Gertruden- and Pauli-Kirche — Farewell Visit to the Klopstock Family — Moonlight Walk to Lockstedt — Lockstedt


The Ratshaus — The Börse — The Johanneum and Gymnasium — The Waisenhasus — The Werk- und Zucht-Haus — The Spinnhaus — Private Buildings — Early Commerce of Hamburg — Hagedorns Linden — Frederich von Hagedorn — Herbsthude


Farewell Visit to Altona — Cemeteries of Hamburg — Daparture from Hamburg — A Day in Blankenese — Costume of female Peasants — A Grave in Ottensen — Embarkation — Helgoland — Islands off the Dutch Coast — Disembarkation at Gravesend — Poetical Epistle to *****
The Baltic provinces of Germany have been scarcely noticed by travellers. To this circumstance chiefly the appearance of the present unambitious volume is to be attributed—although the author may perhaps justly arrogate the possession of some peculiar facilities, from having previously acquired a colloquial knowledge of the German language,—and being connected by affinity with many inhabitants of the country.

The names of places are spelt according to the German orthography, with the exception of two or three long since adopted into the English language. Much censure has of late been expended on such writers as deviate from vernacular modes of spelling: however, those sticklers for accuracy, who would cavil on seeing Hamburgh (for instance,) spelt with an h final, have continued to leave the French in undisturbed possession of Edimbourg, — and to pay that allegiance to the House of Brunswick, which is in Germany considered alone due to that of Braunschweig. The names of artists are many of them transcribed from autographs, and will be, in several instances, found to differ from the received orthography.

Whenever the word "mile" or "miles" occurs, without any appellative, Irish measurement is intended. The German mile is equivalent to about four Irish, or nearly five English miles.

Stephen's Green, Dublin; 12th Oktober 1822.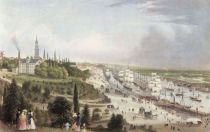 Hamburg Hafen mit Uferpromenade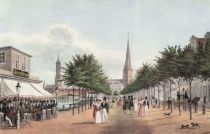 Hamburg Jungfernstieg 1830-1855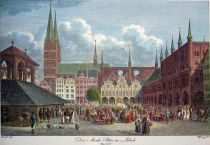 Lübeck - Marktplatz um 1820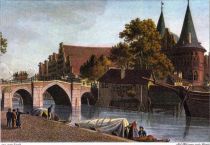 Lübeck - Holstenbrücke um 1820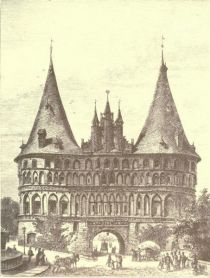 Lübeck - Holstentor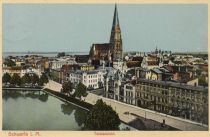 Schwerin - Totalansicht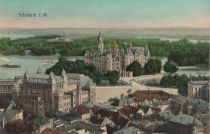 Schwerin - Stadtansicht - Schloss - Hoftheater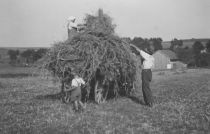 Bei der Feldarbeit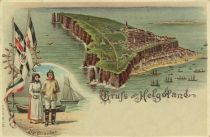 Helgoland - Herzliche Grüße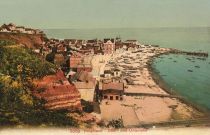 Helgoland - Unter- und Oberland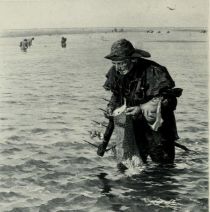 Der harte Beruf des Fischers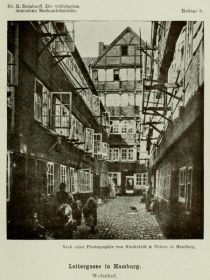 Hamburg - Leitergasse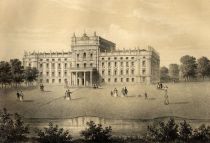 Das Schloss in Ludwigslust um 1880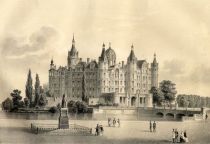 Schweriner Schloss um 1880