82 Harp and Fiddle. By Horton, George
Toss them a nickel. If they are not earning it, they are honestly trying to, which amounts to pretty much the same thing. Perhaps you are not striving so conscientiously to earn your salary as these two fellows are, to give a full equivalent for the nickel they expect to get. The violinist, sure enough, is not a Sarasate, and the harpist does not play heaven's favorite instrument with a maestro 's hand, nor does he sing like Tamagrio. But why be too particular? They are natural born musicians, and something is due to genius. Moreover, when we open the pocket-book wide enough to let out a nickel for a street musician, the heart opens a little at the same time, and a recompense of God's golden sunshine flows into the bosom.
A queer life these fellows lead. On warm summer mornings they play and sing out in the back yard. If you live in the city, you may have heard them when you were half awake, and very beautiful their music sounded at such a time. In the summer afternoons they seek the back streets, and lure a bevy of children around them in the shade. In the winter they play in saloons or wherever experience has taught them that they will not be unwelcome. It goes without saying that the children are their chief admirers. Much pleasure they give the little ones, and many a penny they pick up at their open-air rehearsals. Penniless children listen free. The thoughtful man who happens to run across these peripatetic minstrels will relax his brow for a moment and dream of the time when such music gave him more pleasure than he can get to-day from the most artistic performances. Perhaps if he is rich and careworn he may even go so far as to exclaim:
Swarth minstrels of the city street
Play on, your noisy tunes repeat;
Once more to deem such music sweet
I'd toss my fortune at your feet!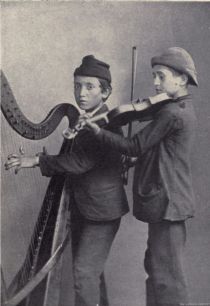 82 Harp and Fiddle.
alle Kapitel sehen