80 The Blind Beggar. By Krausz, Sigmund
Unlike King Oedipus of mythical fame, this old man has not voluntarily robbed himself of the blessings of sight to reconcile the anger of the gods - nay, a plain everyday accident has deprived him of that inestimable gift of nature, and enveloped in darkness he wanders through life, a burden to himself, a burden to others.
He has no memories of past greatness. He does not find consolation in the thought that such self-inflicted punishment will atone for his crime and appease the wrath of the deities.
He has nothing to atone for. No Antigone guides his steps with loving hand only a hired boy is leading him by his empty coat-sleeve from house to house.
He is simply a blind beggar. The Eumenides will not have to conceal his burial place. A pauper's grave in an obscure corner of a cemetery will effectually hide his remains and nobody will look for them, for he was only - a blind beggar.
Blind! O Fates, of all the evils you have in store for humanity, this is the most unkind!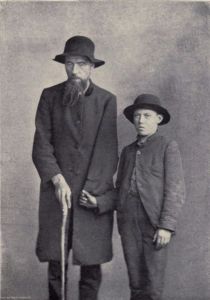 80 The Blind Beggar.
alle Kapitel sehen