78 Ah There! By Krausz, Sigmund
We see him every day, we see him everywhere, we meet him on the streets, in the parks, in hotels, theaters, and we see him even in church.
We know him, we know him well; and still how is it that natural science has not taken any notice of him, though his existence has been proved for the last two or three centuries?
No Buff on, no Brehm has ever attempted to describe his haunts, his habits or his mode of living; nobody has ever thought of classifying him.
Yet he is an interesting subject, and his study would well repay the trouble of profound and scientific research.
A native of larger cities, his beauty, his cleanly habits and docile manners have fitted him eminently for a ladies' pet, and nature has provided him with the necessary instinct to recognize his destiny, for wherever we meet him, he is trying to attract the attention of the fair sex.
Is he successful in that? If not, it isn't his fault, for his perseverance in lounging on street corners, in front of theaters, etc., is simply marvelous, and well deserves the coveted reward.
And then, isn't he irresistible?
His symmetrical form clad according to the latest fashion plate, his statuesque poses and his winning smile are the dangerous weapons that conquer the hearts of the fair damsels who are careless enough to cast a glance at this modern Antinous.
As he stands twirling his handsome mustache in a wonderfully artistic pose of attention, his intelligent eyes beaming kindly admiration, every inch a dude, he is well excusable if he believes in the truthfulness of his device:
"Veni, vidi, vici."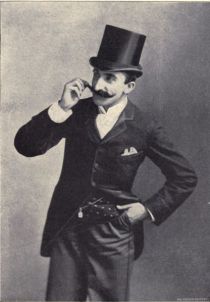 78 Ah There!
alle Kapitel sehen