64 The Popcornman. By Krausz, Sigmund
"Popcorn, salt and sugared popcorn. One bag for a nickel, two for a dime!"
The above refrain sung in a shrill, yet not wholly unmusical key, always makes the children's eyes sparkle with delight and expectation; while the parent who will take his little ones by the popcorn-stand without buying for them a bag of the sweet, oldfashioned and toothsome edible can hardly be said to understand children as well as he should. He must have forgotten his own childhood days.
The popcorn man is certainly a good fellow. It is almost always safe to say that a man whom the children like, even if they do have to pay for the pleasure he gives them, must have some good traits about him. He shows, too, by his calling that he is possessed to some extent at least of that commercial shrewdness which forms so prominent a feature in the make-up of our great merchants.
Success, then, to the popcorn merchant whenever by his own industry and honesty he deserves it. Let us all patronize him, and ourselves live over again our youthful experiences by helping the "little men and women" to enjoy the same pleasures that we used to dote so fondly upon in the days now long gone by.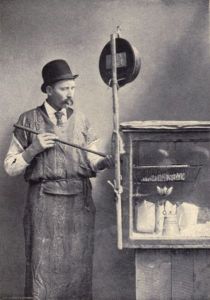 64 The Popcornman.
alle Kapitel sehen