54 Berries! Berries!! Blackberries!!! By Welch, Frank B.
Here is a type well known to all
Who in the busy city dwell,
A man of monumental gall
And gorged with strange conceits as well;
Each day he hails you from the street
If you by chance but glance his way,
With "Berries! berries! choice and sweet!
Here is your fine ripe fruit to-day!"
And tho' you coldly turn away,
As loudly at your door he calls,
He will not let you say him nay,
But lingers and more loudly bawls.
You fix him then with flashing eye,
Your very glance with rage replete,
But still goes up his galling cry,
"Fresh fruit to-day, all sound and sweet!"
And still he halts and warbles on,
With tempting wares held up to view,
At times roundglancing, but anon
His gaze turned back again on you;
And tho' your looks forbid the move,
He nearer draws with hopeful mien,
The which does most conclusive prove
He thinks you, like his berries, green.
Then comes the rub, and, half inclined,
Your heart his urgent plea beguiles,
He draws you on, and soon you find
Yourself encompassed by his wiles;
Your hard-earned cash he gathers in
And to fresh conquests does depart,
The while you view, with deep chagrin,
The consummation of his art.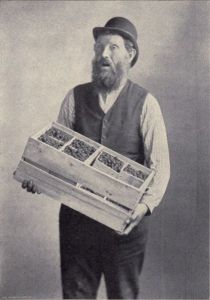 54 Berries! Berries!! Blackberries!!!
alle Kapitel sehen