32 Buy da Papah, Signor? By Krausz, Sigmund
Who has not been accosted, especially evenings and in the down-town districts, by one of these forsaken-looking miniature specimens of toiling humanity?
"Buya da papah, signor?" is their plaintive cry, and it seems to tell a sad story of privation, hunger and neglected childhood driven out in the night by unfeeling and barbaric parents, or, worse perhaps, by a cruel padrone, to earn a few paltry cents for their protectors.
As one sees them, of a winter evening, shiver on the streetcorners, exposed to the inclemency of the weather, their stunted little bodies poorly protected by an old, ragged shawl, against the rain and sleet, crying out with their thin, childish voices, or mutely upholding with their stiff little hands an evening paper, one might feel, indeed, that this is a cruel world, into which every minute a new sufferer is born.
What a contrast between the male and female street Arab! How self-confident, how mischievous the one; how dejected, how for lorn -looking the other!
One might feel compassion and concern towards both of them but while the one, in a sense, hardly deserves it, being self-reliant and by nature hardened against the adversities of life, the other calls forth the deepest pity, the utmost resentment against social conditions that allow a tender being, a future mother of citizens, to be pressed into service to help earn a livelihood for depraved and conscienceless progenitors.
Will this problem ever be solved?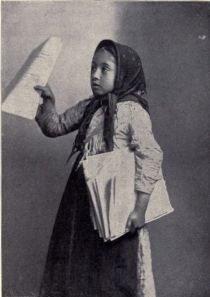 32 Buy da Papah, Signor?
alle Kapitel sehen