22 In the Employ of the Gas Company. By Clover, Sam T.
We all know this man, many of us to our sorrow. He may be said to be in bad odor continuously - both above and below ground. There is not much superfluous flesh on his bones, but then a diet of escaping gas is not particularly conducive to adipose tissue. In spite of his acts of vandalism one cannot withhold a feeling of pity for the poor devil who works so faithfully and unremittingly - when the gang-boss is in his proximity. Wait until the foreman is at the farther end of the block, however, and your sentiments will experience a change. Instead of pity, it is admiration you will feel for this worthy representative of the dinner-pail brigade, who can do more artistic loafing than any other member of the order. Not that he stops work at all; bless you, he is too cute for that! Just watch his pick rise and fall, and you will comprehend my meaning. Why, a blind man could detect by its sound just how far away that gang-boss was from the digger. He is a social sort of fellow. He likes to chat with his neighbor in the next trench, nods to the cabbies that drive by, and has even been known to attempt a flirtation with the servant girl engaged in sweeping her mistress's porch. He drinks freely of the water that the small boy with the wooden bucket offers in a tin dipper, for he sweats profusely, and his system needs replenishing. But it is at noon, when his growler-can is filled from the nearest saloon, that he appears in all his glory. Watch him take a swig! No bottle with a white label was ever emptied with keener zest than that beer-can. Talk about nectar for the gods? He would none of it! Give him beer - all he can guzzle - and he is supremely happy.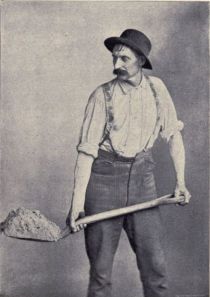 22 In the Employ of the Gas Company.
alle Kapitel sehen