08 Can't fool dis Niggah! By Read, Opie
It is evident that it would not be a very easy matter to "fool dis niggah." With the inherent imitative faculty of the negro, he has caught the shrewdness of his associates - has learned their tune and has added to it a few notes of his own. The keen and cold nip of necessity in the atmosphere of his environment has turned the wonted blitheness of his nature into semi-cynicism; the simple credulity of his fathers, the faith and trustfulness which lightened many a galling load and tempered the sting of the slave-driver's lash, has found no lodgment in his doubting nature. He is a materialist, and accepts no theory; if he tells a truth it is because he believes it will pay better than a lie. And yet, he has one of the brightest of virtues - kindness of heart. He is a new type of outcast - a chunk of black driftwood on a city's restless tide.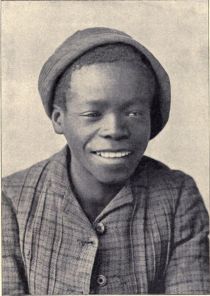 08 Can't fool dis Niggah!
alle Kapitel sehen