Romantic Germany
With Illustrations by Hans Hermann, Alfred Scherres, Karl O'Lynch von Town, Gertrude Wurmb, Charles Vetter, and Otto F. Probst
Autor: Schauffler, Robert Haven (1879-1964), Erscheinungsjahr: 1909

Themenbereiche
Preface.
In the surfeit of books on Germany one subject has been strangely neglected, and that is— the land itself.
Its politics, history, sociology, commerce, and science each has a literature of its own. But for the latest account in English of Germany's most representative and picturesque towns one must turn either to the guide-books or to a rare volume called "Views Afoot," written by young Bayard Taylor in the year 1846.
To certain readers prejudiced by this misleading emphasis it may come as a pleasant surprise to learn that Germany still remains the land of the Nibelungenlied and of Grimm's Fairy Tales, of gnomes and giants, storks and turreted ring-walls, of Gothic liouses in rows, and the glamour of medieval courtyards. But so it is. One must merely know where to look for these things.
Many of the towns, like Rothenburg, Danzig, and Brunswick, have preserved almost intact their Old World magic, and a touch of real romance is to be found as well in almost every one of those larger cities which we have been taught to consider hopelessly prosaic. There is a peculiar zest in discovering a Krögl or an Auerbach's Keller in such places as Berlin and Leipsic, which so many travelers visit unaware of their stores of hidden treasures. It is much as though one should chance on a Dürer engraving fluttering about in Broadway.
In composing this picture, therefore, a few of the larger cities were given preference over rural Germany with its more obvious charms. Nuremberg and the Rhine country were naturally omitted as they had recently received their share of literary attention. And, for the rest, out of an embarrassing wealth of material, a group of the choicest was with difficulty chosen from among the smaller towns of pure romance.
But places are so much like people that whoever makes a book of cities must borrow from the novelist's art. The present writer has tried to select from the many that appealed to him a few city-characters so correlated or contrasted as to bring each other into relief. He has endeavored not only to keep in mind their interrelations, but also to reveal the personality of each one as reflected in the
character of its buildings, streets, squares, and courts
, and of the country beyond its walls; to give a hint of its history, a breath of its legend, a suggestion of the quality of its folk —their customs and costumes, their beliefs, attainments, and humors — and thus to lure the traveler from his hard-beaten tracks in Italy and France and England to the fresh regions of Romantic Germany.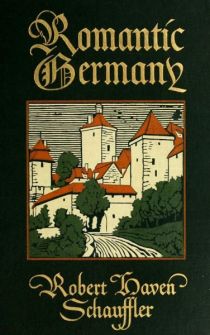 Romantic Germany, Cover 1909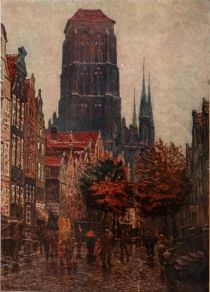 Danzig — Jopen Street and St. Marys Church. Frontispiece Painted by Alfred Scherres.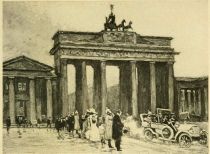 Berlin — The Brandenburg Gate — the Emperor passes. Painted by Karl O Lynch von Town.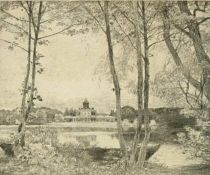 Potsdam — The Marble Palace on the Holy Lake. Drawn by Hans Herrmann.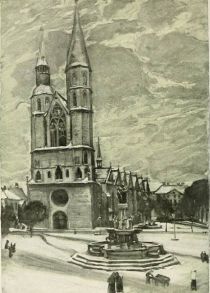 Brunswick — Church of St. Catherine and Henry the Lions Fountain in the Hagen Markt. Painted by Gertrude Wurmb.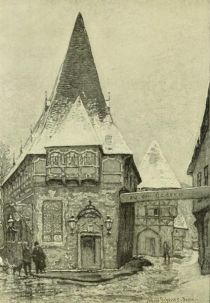 Goslar — The Brusttuch. Painted by Alfred Scherres.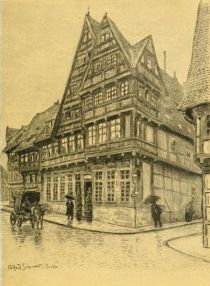 Hildesheim — "The Old-German House". Drawn by Alfred Scherres.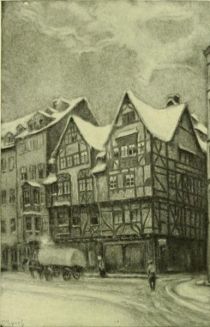 Leipsic — An Old House in the Nikolai-Strasse. Painted by Karl O Lynch von Town.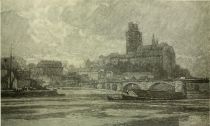 Meissen — from the right bank of the Elbe. Painted by Karl O Lynch von Town.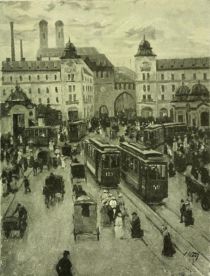 Munich — Karls Place,looking toward Karls Gate, and the Church of Our Lady. Painted by Charles Vetter.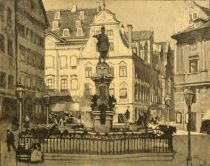 Augsburg — The Ludwigs-Platz and the Fountain of Augustus. Painted by Karl O Lynch von Town.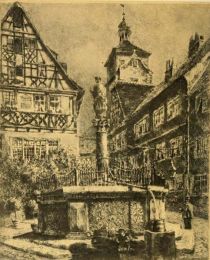 Rothenburg — Fountain in the Kapellen-Platz. Etched by O. F. Probst.